PMP® vs. PRINCE2® Exams and Certificates
I work in the project management field, should I start preparing and getting certified as PMP, or as PRINCE2 Foundation and PRINCE2 Practitioner? What's the difference between them? Which one better matches my career?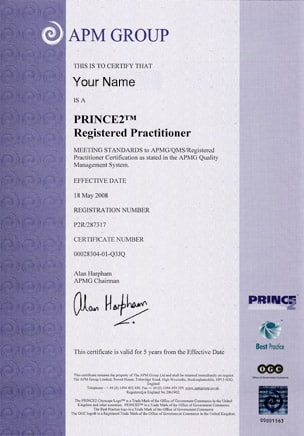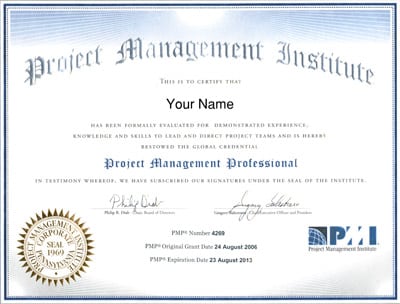 Well, there are lots of questions like this; after all, being certified seems more and more important these days. I'm going to provide you with as much information as I could, hoping you can make a more educated decision.
What's PMP?
PMP is short for Project Management Professional, and is a professional certificate from PMI® (Project Management Institute).
PMI is a USA based non-for-profit organization focused on project management, which has developed and published a number of standards, including:
A Guide to the Project Management Body of Knowledge (PMBOK® Guide)
The Standard for Program Management
The Standard for Portfolio Management
Organizational Project Management Maturity Model (OPM3®)
And also a number of practice standards and frameworks:
Practice Standard for Project Risk Management
Practice Standard for Earned Value Management
Practice Standard for Project Configuration Management
Practice Standard for Work Breakdown Structures
Practice Standard for Scheduling
Project Manager Competency Development Framework
There's no doubt that PMBOK Guide is the most famous standard among these, and people are using it (or trying to use it) worldwide; that's why it even has three extensions:
Software Extension to the PMBOK Guide
Construction Extension to the PMBOK Guide
Government Extension to the PMBOK Guide
Which help you use the PMBOK Guide more effectively in certain application areas.
These are great sources of knowledge for everyone involved in the project management field, and you should definitely be serious about using them.
PMI also has a number of certifications. Once you are interested to, and have the requirements, you can take the exams and you will be awarded with globally recognized certificates upon passing the exams, which is great, not only because you can easily prove your knowledge, but also because in the process of preparing for the exams, you will learn a lot and you will have to fill in a lot of gaps in your knowledge.
These are the PMI's certifications:
Project Management Professional (PMP)® – as you might guess, this is about the PMBOK Guide, but you should know that the exam questions are about the project management body of knowledge in general, and the PMBOK Guide is just a part of it; well, an important part.
Certified Associate in Project Management (CAPM)® – a simple form of PMP
Program Management Professional (PgMP)®
Portfolio Management Professional (PfMP)®
PMI Agile Certified Practitioner (PMI-ACP)® – yes, there's no standalone publication for this yet, but there's a syllabus and they award certifications
PMI Risk Management Professional (PMI-RMP)®
PMI Scheduling Professional (PMI-SP)® – All of you project planners out there, this is useful for you.
Well, that's all. Let's now take a look at PRINCE2.
What are PRINCE2 Certifications?
PRINCE2 is a project management methodology previously owned by the UK's Cabinet Office. PRINCE2, among other "Best Practices" are now owned by AXELOS, a new joint venture company in the UK.
This "Best Practice" family consist of the following:
PRINCE2® – project management
MSP® – program management
MoP® – portfolio management
M_o_R® – risk management
MoV® – value management
P3O® – project, program, and portfolio management offices (PMO)
P3M3® – project, program, and portfolio management maturity model
ITIL® – IT service management
And of course, there are exams and certifications for all of them; usually in two levels of Foundation and Practitioner.
There are the two levels of certification for PRINCE2:
PRINCE2 Foundation – it's the simple one
PRINCE2 Practitioner – It's the advanced one
PRINCE2 Foundation is easier than PMP and it's unfair to compare them, while PRINCE2 Practitioner is as hard as PMP, or as some people believe, even harder than PMP.
The main source for the both Foundation and Practitioner exams is an official publication named "Managing Successful Projects with PRINCE2".
I'll cover both PRINCE2 certifications in this article.
Different Viewpoints of the PMBOK Guide and PRINCE2
You should know that there's a big different between the PMBOK Guide and PRINCE2. The PMBOK Guide is a knowledge, while PRINCE2 is a methodology.
| PMBOK Guide | PRINCE2 |
| --- | --- |
| Knowledge (explains what you should know) | Methodology (explains what you should do) |
| Descriptive (explains the good practices) | Prescriptive (tells you what to do) |
| Answers HOW questions | Answers WHAT, WHEN, and WHOM questions |
So, which one do you need? Obviously both of them!
Just take a look at the PMBOK Guide 5th Edition, page 2: "This standard is a guide rather than a specific methodology. One can use different methodologies and tools (e.g. agile, waterfall, PRINCE2) to implement the project management framework."
And there's a similar state in the official PRINCE2 manual, pages 230 and 231, which also mentions the PMBOK Guide.
Therefore, these two standards are not competitors, you need both of them (or similar replacements for each of them) to be able to manage your projects successfully.
Where are They Used in the World?
Well, PMBOK Guide and PRINCE2 are not competitors, but most people do not believe so, and that's why many people are trying to decide which one is better for them; which is a wrong question! None of them replaces the other one; they are different things.
But anyway, each of them are better known in certain countries.
| PMBOK Guide | PRINCE2 |
| --- | --- |
| USA, Canada, Middle East, Australia | UK, Europe, Australia |
How are the Exams?
And now let's take a look at the three exams:
| PMP | PRINCE2 Foundation | PRINCE2 Practitioner |
| --- | --- | --- |
| 200 Questions | 75 Questions | 8×10 Questions |
| Multiple Choice | Multiple Choice | Multiple Choice |
| Abstract Questions | Abstract Questions | Scenario Based Questions |
| 62% pass mark (1) | 50% pass mark | 55% pass mark |
| 240 Minutes | 60 Minutes (2) | 150 Minutes** |
| Closed book | Closed book | Open book |
| Exam center | Exam center (3) / Online | Exam center (3) / Online |
(1) It used to be 61% or 62%, but they use a complicated system now which is not based on a predefined passing score. However, it's said to be close to a 62% passing score.
(2) If you're not taking the exam in your mother tongue, you will have a little more time to take the exam.
(3) You can actually take the exam in any place, given that the place is approved by your training organization and an official proctor is there while you're taking the exam.
The big different between the PRINCE2 Practitioner exam and the other two is that the Practitioner exam questions are based on a scenario. The exam papers describe a project and you have to answer different questions based on that scenario. The other two exams are a collection of normal abstract multiple choice questions which are completely independent.
Passing the PRINCE2 Foundation exam is the easiest among these three. The PMP and the PRINCE2 Practitioner are in the same level; some people believe that the PMP exam is harder, and others believe that PRINCE2 Practitioner is harder.
PMP vs. PRINCE2 – What's the Prerequisites?
Not everyone can take the exams!
| PMP | PRINCE2 Foundation | PRINCE2 Practitioner |
| --- | --- | --- |
| Minimum 4,500 hours learning and directing projects if you have a four-year degree or 7,500 hours if you don't | None | Being certified as PRINCE2 Foundation, PMP, CAPM®, IPMA-D, IPMA-C, IPMA-B, or IPMA-A |
| 35 hours of formal project management education | Formal training is not mandatory | Formal training is not mandatory |
The formal training can be online (eLearning course) in all three cases.
Oh, did I mention that we offer all three eLearning courses? :)
How to Register for the Exam?
OK, let's say you've decided to take the exam and you're ready; how should you register to take the exam?
| PMP exam | PRINCE2 exams |
| --- | --- |
| By registering at PMI.ORG, and taking the exam in Prometric or Pearson VUE exam centers around the world. | Usually by registering at an accelerated training organization and taking the exam online (wherever you are), at an exam center, or at any other place you've arranged with your training organization. |
The training organizations have an important role in your PRINCE2 certification process. You cannot take the exam directly from AXELOS. So, be careful with the organization you choose. And by the way, the accelerated training organizations are allowed to set their own prices; that's why you see different prices in different websites.
Renewing the Certificates
These certificates are not permanent, you should renew them. Both PMI and AXELOS want to be sure that everyone certified by them have enough knowledge all the time.
| PMP | PRINCE2 Foundation | PRINCE2 Practitioner |
| --- | --- | --- |
| Every 3 years | It doesn't expire | Every 3 to 5 years |
| By PDUs (1) | - | By a relatively shorter exam, or by CPDs (2) |
(1) A PDU (Professional Development Unit) is an activity you take which increases your project management knowledge/capabilities or others (reading or writing books and articles, attending seminars, train others or get trained, etc).
(2) A CPD (Continuous Professional Development) unit is a concept similar to PMI PDUs. PMP vs. PRINCE2 Cost!
And yes, they cost you both time, and money. But don't worry, it's worth it.
| PMP | PRINCE2 Foundation | PRINCE2 Practitioner |
| --- | --- | --- |
| €350/$490 (1) | €270/$350 (2) | €340/$450 (2) |
(1) the smaller amount is for those who have paid for PMI membership.
(2) prices differ among training organizations.
You probably want to have the official publications too. You should buy the PRINCE2 publications separately, but you can download all the PMI publications for free, once you become a member.
Source of the Exam
The source of the PRINCE2 exams is the official manual, Managing Successful Projects with PRINCE2.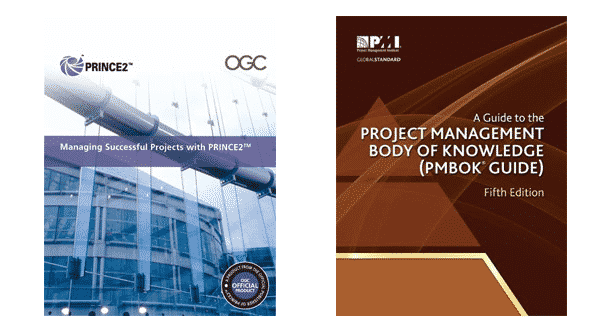 The main source of the PMP exam is the PMBOK Guide, but the exam is not limited to the guide and you need to have a broader knowledge. Therefore, you should read a PMP exam preparation book or/and take a good-enough online/classroom course.
Conclusion
OK, I hope you've found all the information you were looking for.
If you're going to decide, I strongly suggest you remember that PRINCE2 and PMBOK Guide are not competitors, and you'd better learn both of them. In case of getting certified, why not get both types of certifications? If you would like to, this is my suggestion:
Learn both PRINCE2 and PMBOK Guide in an introductory level
Then continue learning PRINCE2 in the Foundation level
Take and pass the PRINCE2 Foundation exam
Learn PMBOK Guide super-seriously
Take and pass the PMP exam
Learn PRINCE2 super-seriously
Take and Pass the PRINCE2 Practitioner exam
And don't stop there! There are lots more to learn, including:
Agile systems such as Scrum and AgilePM
Program management
Portfolio management
Value management
And you can also improve your theme knowledge and techniques, such as risk management, benefits management, configuration management, scheduling, etc.
Good luck.
---
Related Courses
Our job is creating self-paced, online courses that are practical and pleasant! The following courses relate to the topic of this article, in case you're interested:

the first 30% of each of these courses is free and you can take them even without registering.